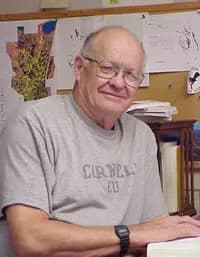 Glen E. Woolfenden
Glen E. Woolfenden (1930-2007), renowned ornithologist and evolutionary biologist, died June 19, 2007, in Sebring, Florida. Glen was a charter faculty member (1960-1999) and Distinguished Research Professor at the University of South Florida, Tampa. He was a Research Associate (1969-1999), and later Emeritus Research Biologist, at Archbold Biological Station, where, since 1969, he maintained a continuous study of the endangered Florida Scrub-Jay. This project is hailed among the world's most famous long-term studies of a bird population.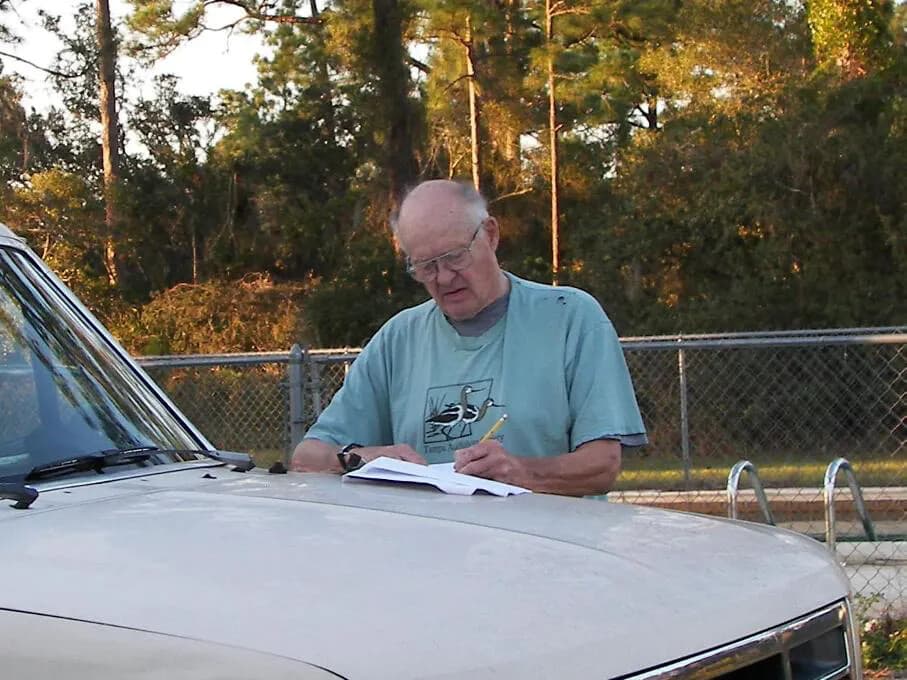 Glen E. Woolfenden 1930-2007
B.S., Cornell University, 1953. M.S., University of Kansas, 1956. Ph.D., University of Florida, 1960
University of South Florida, Charter faculty member (Department of Zoology/Biology), 1960-1999, rising to the rank of Distinguished Research Professor, 1988-1999; and becoming Professor Emeritus, 2000-2007
Archbold Biological Station
Visiting Scientist, 1968-1969
Research Associate, 1969-1999
Senior Research Biologist & Co-department Head of the Avian Ecology Lab, 1999-2001
Curator of the Bird Collection, 1999-2007
Research Biologist Emeritus, 2001-2007
Photo by Jack P. Hailman. This was a favorite photo as Glen selected this one, from several, for his home page, FEL.
[This notice appeared in the Tampa Tribune on July 2, 2007 (Highlands Today edition) and on July 3, 2007 (City edition), and in the Lake Placid Journal on July 5, 2007.]
Glen Everett Woolfenden, renowned ornithologist and evolutionary biologist, died on Tuesday, June 19, 2007, in Sebring, Florida, of complications following abdominal surgery. Woolfenden, 77, was internationally known as the world's expert on Florida Scrub-Jays. Since February, 1969 Woolfenden had maintained a continuous, intensive study of these endangered birds at Archbold Biological Station near Lake Placid, Florida. This project is hailed among the world's most famous long-term studies of a bird population. Glen lived with his wife, Jan, in Lake Placid, Florida.
Woolfenden was a meticulous field biologist. His scrub-jay research involved color-banding every jay, locating every nest, mapping every territory, and exhaustively censusing every surviving jay each month at Archbold Biological Station since 1971. Through scores of technical and popular articles, he was the first to show that Florida Scrub-Jays live in cooperative, extended-family groups in which young birds remain in the home territory and help their parents rear the offspring of subsequent years. He documented the Florida Scrub-Jays' strict dependence on stunted, fire-maintained oak scrub, a habitat unique to Florida and now mostly eliminated through agricultural, residential, and commercial development. Woolfenden's work established the biological basis for the Florida Scrub-Jay being listed on the federal Endangered Species List, and also helped elevate public awareness of the need to protect remnant tracts of oak scrub habitat. Together with John Fitzpatrick, his research collaborator for 35 years, Woolfenden received the 1985 William Brewster Award, the highest research honor bestowed by the American Ornithologists' Union, a professional society for which he served as President from 1988 to 1990. He also won prestigious awards from the International Ornithological Congress, Animal Behavior Society, German Ornithological Society, Cooper Ornithological Society, Wilson Ornithological Society, and Florida Ornithological Society.
Woolfenden was born January 23, 1930, in Elizabeth, New Jersey, and fell in love with birds as a high school student in Westfield, NJ. After graduating from Peddie School in Hightstown, NJ, Woolfenden attended Cornell University as an R.O.T.C. student, receiving his B.S. degree in 1953. He received his Masters Degree from the University of Kansas, and his Ph. D. in 1959 from the University of Florida. In 1960 Woolfenden became a charter faculty member of the newly established University of South Florida, where he won numerous teaching and research awards, including Distinguished Research Professor, before his retirement in 1999. Post-retirement he continued as Research Associate at Archbold Biological Station, reporting to work virtually every day to continue his research.
Lively, gregarious, athletic, and witty, Glen led a generation of ornithologists who established birds as important indicators of environmental well-being. He was a formidable presence at social gatherings and faculty meetings, and was a popular and effective public speaker. Glen's unbridled enthusiasm and charisma, from college through retirement and beyond, inspired countless students and friends to devote their lives to the study of birds and nature. He was a demanding mentor, and many of the students Woolfenden advised during his academic career have become influential research scientists at universities, museums, and research centers across the United States and overseas. His dedication to long-term field studies helped establish the importance of such projects in ecology, both at the Archbold Biological Station and elsewhere around the world.
Woolfenden is survived by his wife, Janet Ezzelle Woolfenden, three children (Kim Woolfenden-Kaan, Scot Woolfenden, and Lisa Woolfenden Coker), three grandchildren (Michael Woolfenden, Grant Buckner, and Faith Coker), and a healthy, well-managed population of hundreds of Florida Scrub-Jays at Archbold Biological Station. Each jay bears a unique combination of colored leg-rings carefully applied by Glen in order to document its individual life. His study, and its influences, will continue indefinitely.
by John W. Fitzpatrick, June 26, 2007
Ornithologist Was Scrub Jay Specialist
LAKE PLACID - Glen Woolfenden was not a nerd. He was a meticulous researcher who devoted his life to studying birds and obsessed over details and organization, but he was not a nerd, says John Fitzpatrick, Woolfenden's former colleague of 35 years. 'It seems like a contradiction,' said Fitzpatrick, now the director of the Cornell University Laboratory of Ornithology. 'Glen was so meticulous, he sounds like a nerd. But he was always the life of the party.'
A large man with a booming voice and wide smile, Woolfenden was a raconteur who could capture even the most difficult audiences, another former colleague said. 'My mother-in-law, who has no interest in science, once came over for dinner,' said Jack Fernandez, who taught with Woolfenden at the University of South Florida. 'She stayed up past midnight listening to him talk about his birds.'
Woolfenden, 77, best known for his work with the Florida scrub jay, died June 19 from complications after abdominal surgery.
One of the original 60 faculty members at USF when it opened in 1960, Woolfenden taught with the same demanding but caring approach that defined his career as an ornithologist, his former students and colleagues said. 'He set the bar high,' said Paige Martin, one of Woolfenden's former students. 'But he never expected more from you than what he thought you could give.'
In 1969, 10 years after receiving a doctorate from the University of Florida, Woolfenden began a long-term study of the Florida scrub jay that helped bring public awareness to the plight of the threatened species. First intrigued by the bird's unusual social behaviors, Woolfenden tracked every Florida scrub jay that resided in the fields at Archbold Biological Station in Lake Placid from 1969 to his death. Unlike other birds, the scrub jay does not leave its nest for good once it is grown. Rather, the young birds return to their birth nests to help their parents raise the next generation.
To study the lives and behaviors of the birds, Woolfenden and his colleagues developed an innovative tagging method that allowed them to track individual birds living in the station's 5,000-acre field. Woolfenden tagged each bird with a series of color-coded bands that acted as a name tag. 'We put them on when they were in the nest, as nestlings,' Fitzpatrick said. 'Then we followed them as they grew up, got married and even divorced.' The tracking method led to an unprecedented look into the lives of birds and helped make Woolfenden's reputation as an ornithologist. Woolfenden continued his study of the Florida scrub jay through his retirement from USF in 1999 until he died.
By his side was his wife of 26 years, Jan, who served as his research assistant. Calling her husband a 'wonderful, complicated, interesting person,' she said he always would be remembered as a great ornithologist but also as a genuine, caring man with a great sense of humor. 'He cared,' Jan said. 'He was demanding, but he wouldn't demand anything he wouldn't demand of himself. He was one of a kind.'
By ANDRIY R. PAZUNIAK, The Tampa Tribune, Published: July 4th, 2007
Research Interests
Ornithology, Avian Behaviorial Ecology
In 1969 I established a long-term, longitudinal study of the ecology and behavior of the Florida scrub-jay (Aphelocoma coerulescens) at the Archbold Biological Station. About 100 jay families reside on the 5000-acre field station. Half the families occupy the demography tract, where no significant manipulations are permitted; these birds and their descendants have been individually color-marked for 28 years (as of 2007, 39 years). The other approximately 50 families occupy the experimental tract; these birds have been marked for about 10 years. Since 1969, with participation by numerous graduate students and several colleagues from other institutions, we have learned much about the demography and social structure of this Florida endemic, especially regarding its cooperative breeding behavior, habitat requirements and foraging ecology. Part way through the study the Florida scrub-jay was officially listed by the U.S. Fish and Wildlife Service as Threatened. Thereafter, considerable effort has been extended toward studying scrub jays throughout their Florida range, with emphasis on habitat and conservation.
An infinite number of thesis and dissertation projects remain to be isolated with the Florida Scrub Jay as the focal organism. Students are expected to identify their own projects.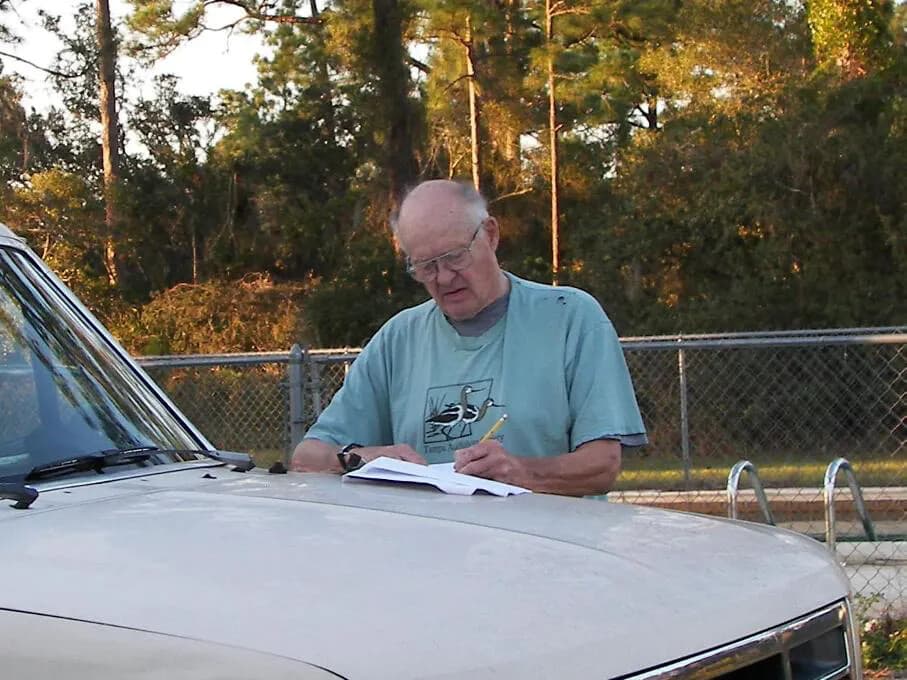 From American Birds CBC issue Photo: Bill Pranty
Glen E. Woolfenden of Lake Placid, Florida, died following surgery on June 19, 2007. A former president of the American Ornithologists' Union and long-term researcher of Florida Scrub-Jays, Glen moved to Florida in 1957 to pursue a Ph. D. He participated on his first Christmas Bird Count in Florida later that year and participated annually through 2005. Glen and his wife, Jan, visited the Antarctic in December 2005 so he missed that CBC season. Glen resumed CBCs this past season, his 50th year of participation in Florida. This photo of Glen was taken in early evening on the Lake Placid CBC, December 28, 2006. Glen's group had just recorded Great Horned Owl in the woods behind him, and in a few minutes they would see two Roseate Spoonbills fly over, a species not previously recorded on the Lake Placid count. It was a fitting ending for Glen's final CBC.-2023