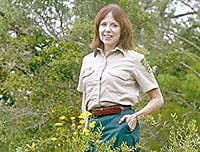 Anne Risdon Malatesta
Anne Risdon Malatesta (1952-2009). The Lake Wales Ridge has lost one of its most passionate advocates. Anne was the District Biologist for the Florida Division of Forestry in Polk County. She was a strong spokesperson for habitat protection and restoration, especially for using prescribed burns to maintain populations of rare and endangered plants and animals.
The Lake Wales Ridge has lost one of its most passionate advocates. At forty Anne Malatesta went back to college. She earned a Bachelor of Science degree in biology from Florida Southern College in Lakeland, Florida. While winding up her degree, she served her internship with The Nature Conservancy monitoring the Florida Grasshopper Sparrow at three sites in central Florida. It was there that Anne developed her deep love for "natural Florida" and for fire. For the past fourteen years Anne was the District Biologist for the Florida Division of Forestry in Polk County, Florida.
A true love and appreciation of the natural world was innate in Anne. It shows in her photography. A biologist at the Lake Wales Ridge State Forest, Anne was adamant about restoring and protecting the habitat that supported the plants and animals there, many of which are listed as endangered or threatened species.
It is fair to say that once you met Anne, you would not forget her. She had a powerful presence and a style all her own. She was endowed with an infectious enthusiasm that attracted others to her causes and provided her with impressive powers of persuasion. It would be difficult to name all of the things that made Anne 'Anne', but throughout her life she was an inspiration to many. For instance, she was personally committed to imparting her passion for nature to children and young adults.
She loved the 'blues' and the music of Jimi Hendrix. In earlier years she performed with her band as a jazz guitarist. She was an avid reader of Shakespeare. She was spirited and outspoken. She was tenacious. She had a mischievous laugh. You might remember hearing some of her amusing expressions like 'baddah-bing, baddah-boom' (Anne's version of 'get 'er done') and 'Whoa there, Sparky!' (if you started to leave because you thought she was finished talking to you - but she wasn't) She also had a special name for almost everyone or at least a unique way of saying a person's name so that you knew that you were special to her in some way. Her favorite event of the year was the Archbold Biological Station Christmas party… or any controlled burn that she was on.
Her nature photographs often depicted the unusual: the billowing yellowed smoke of a prescribed fire; a close-up of the throat of the endangered scrub morning glory; burned trees in scrub, as if they were dancing; some minute aspect of a flower's bloom not visible with the naked eye. In the summer of 2004 Anne's photographs ("Fire and Flowers: Abstractions of Nature") were on exhibit at Bok Tower Gardens in Lake Wales, Florida. They hung there as Hurricanes Charley, Frances and Jeanne passed over, all within a six week period. Some of her photos were also featured in an article on the Lake Wales Ridge in the Dec '04/Jan '05 issue of Natural History magazine.
Anne's contributions to the environment were from her heart. Those of us who knew her share the sadness of her passing and will greatly miss her. We thank her for sharing her many talents. We will not forget her or the love she gave us.