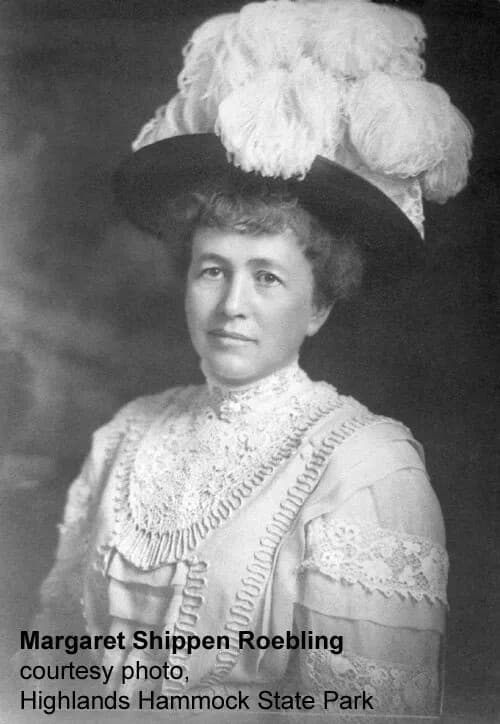 Margaret Shippen Roebling: Highlands County Founder
Author: Joe Gentili
April 12, 2023
Margaret Shippen McIlvaine was born on August 31, 1867 in Trenton County New Jersey, to Anne de Belleville Hunt and Edward Shippen McIlvaine. Her family had deep ties to the New Jersey area, dating to before the American Revolution and including one member who was a U.S. Senator representing the state in the 1820's. Margaret lived a privileged childhood, though was affected by health ailments, including tuberculosis which would be a long-term affliction that altered many aspects of her life.
On June 12, 1888, she married John Augustus Roebling II, son of the builder and grandson of the designer of the Brooklyn Bridge. John lived in New Jersey as well, where his family had established a company to manufacture steel wire for bridge construction. The couple would be married for more than 40 years.
Margaret's health concerns were always in the background, however. The couple tried living in Arizona and North Carolina, since doctors recommended Margaret live in a warm dry climate. The conventional wisdom at this time was that this would be good for those with tuberculosis. Eventually the search for a warm dry climate would lead to Lake Placid, Florida.
Margaret's time in Highlands County began during the winter of 1928. Melville Dewey (known for the Dewey Decimal system used in libraries) built a large lodge in Lake Placid during the height of the 1920's land boom in Florida. Winters in South-Central Florida fit Margaret's doctor's instructions perfectly, and the new lodge provided a comfortable place to spend the season.
During one of these visits, Margaret flew over the area, with her son Donald as pilot, which would later become Highlands Hammock State Park. She was clearly impressed, and word started to spread that the Margaret might acquire some of the lands he viewed from the airplane. In a 1930 Club News item, Melville Dewey noted that, "Margaret Roebling, a life member who has spent 2 winters at Club Lodge, gave $25,000 to buy this land." According to the official Florida State Parks description, "[she] later contributed another $25,000, with the condition that the community raise $5,000 to show its commitment… The property, which consisted of 550 acres of the Hammock proper and an additional 1,500 acres, was acquired in 1930."
After several winters in Lake Placid, Margaret and John decided to build a seasonal home in the area. According to Archbold Librarian Emeritus Fred Lohrer, "They purchased 1,050 acres of forested land 8 miles south of Lake Placid (two transactions May 15, 1929 & March 30, 1930), where they intended to construct a winter home on the highest point of the land, Red Hill, 213 feet above sea level." Unfortunately, Margaret died at the age of 63 on October 23, 1930, and the Roeblings never built their winter home. Both the store and supply buildings of the Red Hill and Highlands Hammock were only in the early stages of their respective development. John saw that each project was completed, largely as a legacy to Margaret. During the Great Depression work on these two properties provided jobs for hundreds of locals in a very difficult time.
The Red Hill property would never be the home Margaret had sought, though her son Donald facilitated the transfer of the grounds from his father John to his childhood friend Richard Archbold in 1941. Richard would make the land his home for the next 35 years, and created Archbold Biological Station. Margaret's legacy of preservation of local natural areas continues to this day, more than 90 years after her death, at Archbold and Highlands Hammock.
There is a stone marker at Highlands Hammock State Park with a plaque dedicated to Margaret which reads "Highlands Hammock. Purchased by the late Margaret Shippen Roebling (Mrs. John A. Roebling). To make accessible and to conserve in their natural state the vegetation and all forms animal life herein. In her memory the officers and directors of Highlands Hammock Inc. here place this tablet, March 15, 1931." This succinct memorial gets right to the heart of what Margaret Roebling means to Highlands County. In just a few short years, she was critical to the creation of two large natural areas, which to this day conserve thousands of acres of the County and protect the plants and animals within. Her Legacy as a Highlands County Founder is still thriving nearly a century after she last set foot on the ground.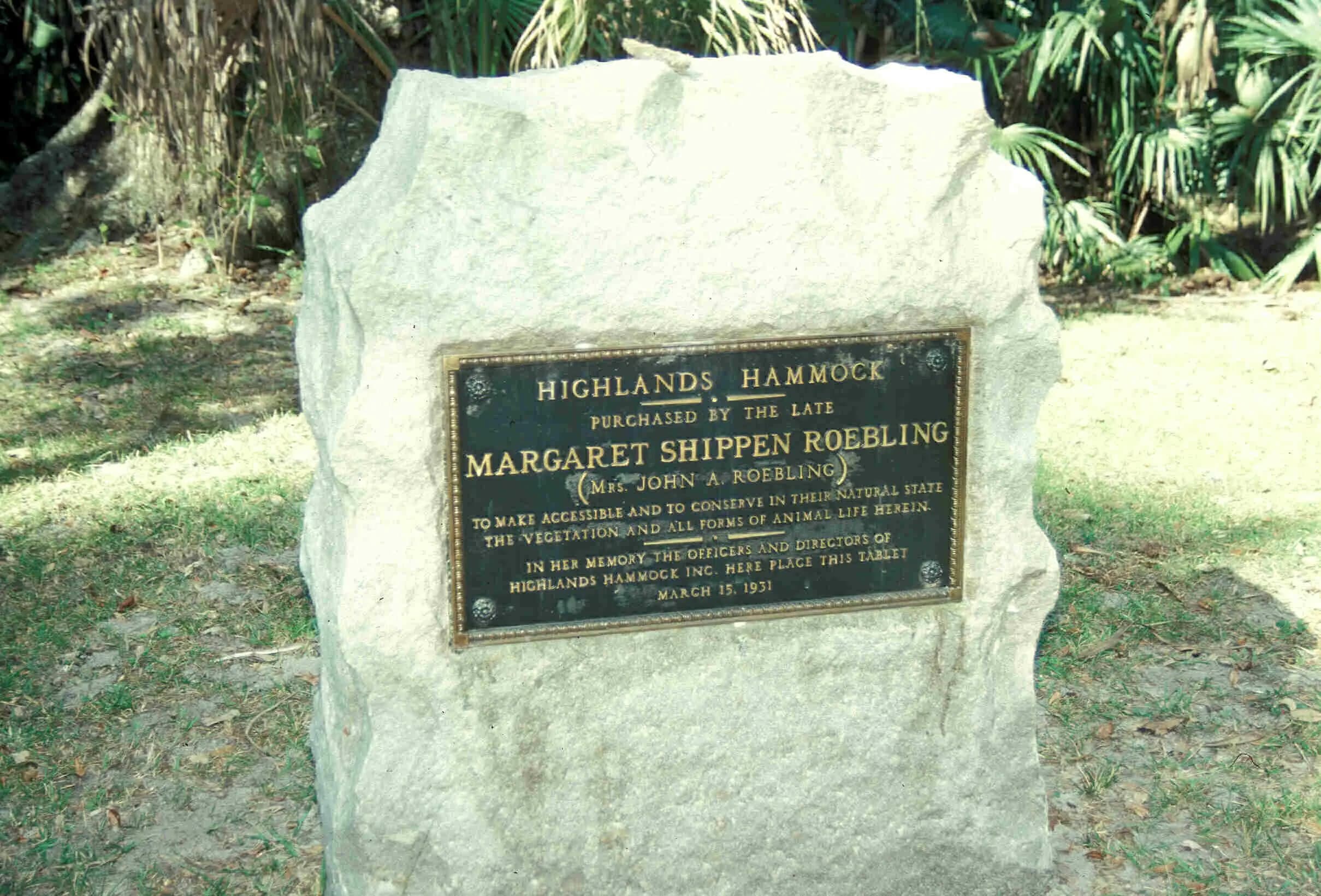 Stone marker with plaque at Highlands Hammock State Park. Photo by Joe Gentili