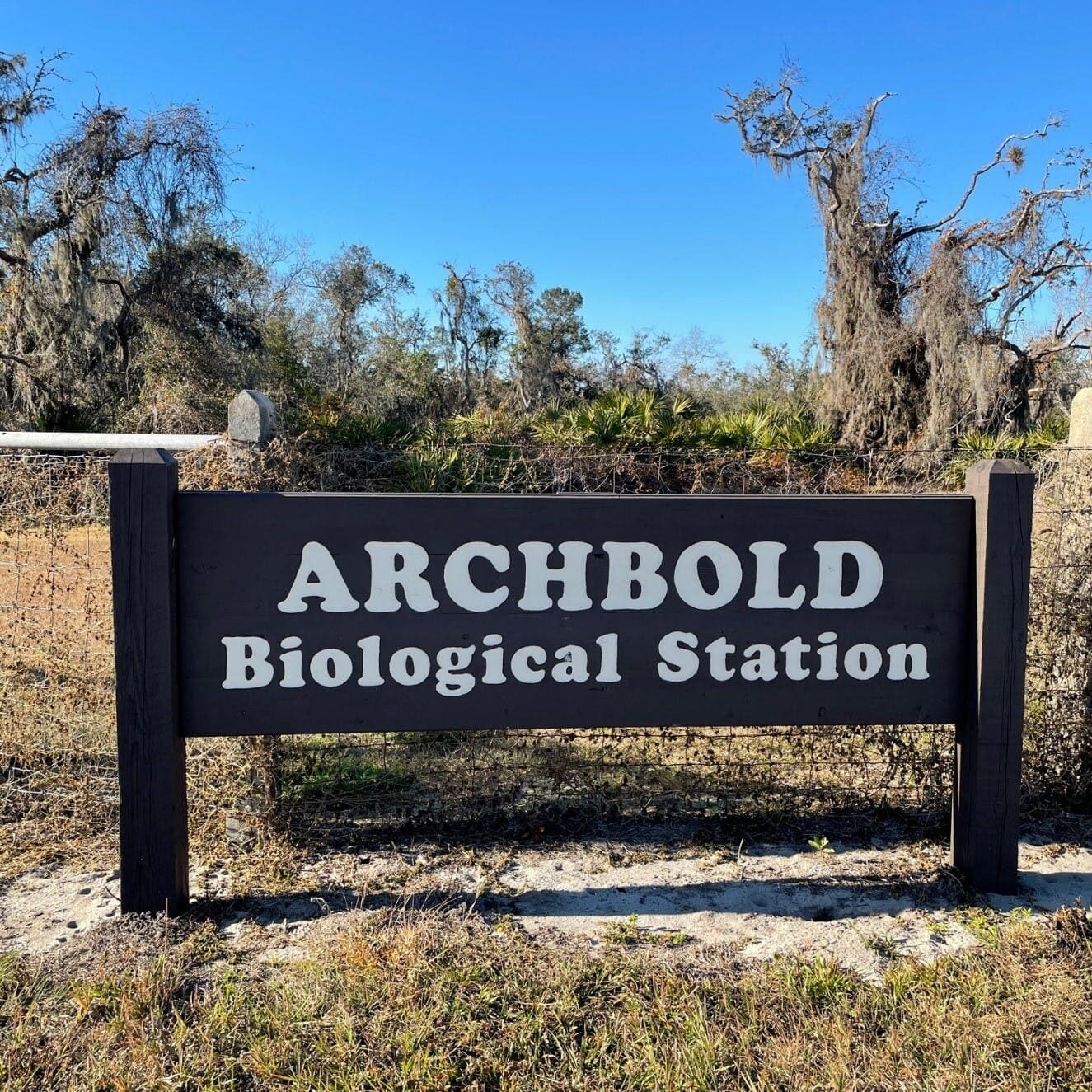 2022 at Archbold: the year in review
January 18, 2023
2022 was a year of returning to normal, continued growth, and milestones for Archbold. After a pause due to Covid, Archbold returned to sponsoring visiting early-career scientists through the Archbold Visiting Scholar program. Archbold also had a vibrant cohort of post-baccalaureate research interns who were eager to explore the natural laboratory that is the Florida Scrub and the unique ecosystems on Archbold's Buck Island Ranch. In-person seminars from distinguished scientists and research interns were once again hosted in The Frances Archbold Hufty Learning Center. The Education Program returned to hosting Scrub Ecology Camp in person at the Station and welcomed visiting elementary school classes for field trips to learn about the unique ecosystems of Florida.
As the lead science organization in the statewide campaign to protect the Florida Wildlife Corridor, Archbold continued to grow its Conservation Program and turn science into conservation action. With partners from the Center for Landscape Conservation Planning at the University of Florida, Florida Natural Areas Inventory, and the Florida Wildlife Corridor Foundation, Archbold hosted three online Corridor Science Exchanges to promote exchange of scientific needs and information among attendees. Dr. Hilary Swain, Archbold Executive Director, presented a keynote address at the first annual Florida Wildlife Corridor Summit about lessons learned from the history of conservation land acquisition in Florida. More than 36,000 acres of land were approved for protection within the Florida Wildlife Corridor in 2022 by the State of Florida, including a conservation easement of 1,883 acres within Buck Island Ranch. Dr. Hilary Swain said, "The easement will contribute towards Archbold's ability to sustain Buck Island Ranch as a protected working landscape and a vital long-term research center. We are proud that Buck Island Ranch is a critical part of the Florida Wildlife Corridor, embracing the natural and working lands that make Florida unique, valuable, and the state the world loves to visit."
Archbold science programs continued to grow last year, protecting the rarest of the rare and sustaining natural and working grasslands. Buck Island Ranch has become increasingly well known as a center for agroecology in the Southeast and an important partner in the USDA Long Term Agroecosystem Research (LTAR) program. The Agroecology Program launched several new studies with the help from Ranch Operations, including a grazing study with rainout shelters. The Predator-Prey Program expanded its Corridor Observatory network of cameras to increase the understanding of how large mammals move through different ecosystems and working lands. The Plant Ecology, Avian Ecology, and Herpetology programs continued their long-term studies of rare species including the Lake Placid Scrub Mint, Florida Scrub-Jay, and Gopher Tortoise. Archbold launched a new buoy in Lake Annie bristling with high-tech sensors to collect data on the weather and the lake. The yellow data buoy was funded by the National Science Foundation and custom-built by Flydog Marine. The GIS and Data program continued using drones to collect data to help answer interesting ecological questions. Archbold's newest program, Conservation Science of Military Lands, was awarded a four-year grant, along with collaborators at the University of Central Florida and Conservation Science, Inc., from the Department of Defense to study the impacts of habitat burning and Fire Ants on endangered wildlife populations as part of the Strategic Environmental Research and Development Program.
The year was also full of milestones and awards. Former Archbold Executive Director, and current Board Member, Dr. John Fitzpatrick and Archbold Emeritus Librarian Fred Lohrer both celebrated their 50th anniversaries at Archbold. Dr. Mark Deyrup, Emeritus Entomologist, and his wife Nancy Deyrup, retired Archbold Environmental Education Director, celebrated their 40th anniversaries at Archbold. Director of Education Dustin Angell won second place in the Faces of Biology photo contest sponsored by the American Institute of Biological Sciences and the Society for Integrative and Comparative Biology. Angeline Meeks, Archbold Conservation Cartographer, and Joe Guthrie, Predator-Prey Program Director, won 2nd place in the Education Map Category for their story map 'Bear Necessities' based on the journey of Florida Black Bear m34, at the Esri User Conference, the largest GIS (geographic information system) mapping conference in the world.
Archbold would not have been able to accomplish so much without loyal supporters, donors, Board members, and dedicated staff. Archbold looks forward to continuing their mission, to build and share the scientific knowledge needed to protect the life, lands, and waters of the heart of Florida and beyond, in 2023. Archbold staff and Board wish all readers, "A safe, happy, and healthy New Year!"