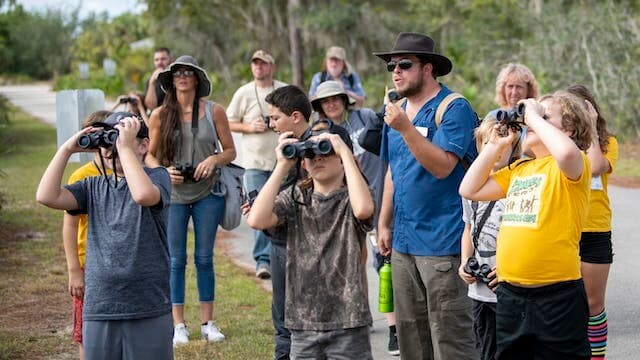 Placed-based science education
At Archbold, students learn science grounded in our 80+ years of place-based ecological research. Lessons take place in nature's classroom, a preserve with nearly 4,000 acres of one of the countries most endangered habitats, the Florida scrub. 
The scrub and sandhill habitats on the Lake Wales Ridge are the most ancient intact ecosystems in peninsular Florida, dating back over one millions years. In the process of exploring this natural wonderland, students also develop a sense of place, environmental identity, and connection to nature. 
Choose
Your Own Adventure
Use the embedded slideshow below to encounter Archbold's educators and researchers in the field. Students can choose what questions to ask them. The presentation is about 15 minutes long, but students may want to run through twice to choose different options. Click the three dots at the bottom to go full-screen.
The
Elementary Program
Field trips and classroom activities
The Elementary School Program is a field trip program with accompanying Science in the Scrub pre-visit lessons for the classroom. The 2 ½ hour science field trip includes: a guided nature tour, animal tracking, meeting a live snake, visiting a weather station, and exploring the exhibits in our Learning Center. Free for all public schools in Florida. Program is aligned with The Next Generation Sunshine State Standards for 3rd-5th grade.
Field trips for our older students include a guided nature tour and discussion of Florida scrub ecology and conservation. The program can be customized to include a variety of topics including citizen science, careers in science, wildlife corridors, and more by teacher request. Free for all public schools in Florida. 
Bring Archbold to
Your Classroom
Virtually or in-person
If you are unable to bring your class to Archbold, we will come to you - in person or virtually! Programs are customizable, with common elements including:
Demonstration of live snake
Skull demo with discussion of morphological features
Presentation on Florida scrub ecology, conservation, or other related topics
Discussion of careers in science
In-person classroom visits are only available for local schools. Contact us to see if your school qualifies.
Contact our education staff
Support education
We need your help to support the next generation of environmental stewards.
Give now
Thanks to support from donors, we have welcomed K-12 students from local schools for decades.
We need your help to continue this important ecological experiential opportunity for young learners.